Adam Ant Convention 2010 Tickets Now on Sale
Submitted by admin on Fri, 02/04/2010 - 22:54
in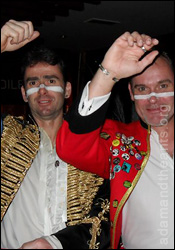 Tickets and information has been released for this year's Ant Lib Weekender - featuring our annual Adam & the Ants Celebration - to be held over the weekend of Friday 5 November - Saturday 6 November in London.
The Ant Liberation Front is proud to present the Ant Lib Weekender 2010 - bigger, better, louder and prouder with eleven hours of live Ant tributes, big screen unseen Ant video, discount merchandise and the finest Antmusic - all to celebrate the 30th anniversary of the Ants' classic LP King's of the Wild Frontier.
This year we will be partying in 'Ant Land' itself - Chalk Farm: one mile east from St John's Wood, one mile south from Hampstead and a short "brush me, daddio" from Camden High Street. For from just a tenner, you'll have a weekend to remember with fellow Adam Ant fans and freaks.
For tickets & information, including our special accommodation package deal, visit the Ant Lib Weekender event page or use the form below to order your tickets instantly.
Photo: Lynda Ant
Who's online
There are currently 0 users and 16 guests online.
Who's new
bugpowder
PixieM
buddyholly
sfc1870
bretty
This Month's Poll
Who's the quintessential 'Ant Video Girl'?
Amanda Donahoe (Antmusic, Stand & Deliver)
22%
Diana Dors (Prince Charming)
39%
Lulu (Ant Rap)
0%
Caroline Munro (Goody Two Shoes)
19%
Karen Landau (Puss 'n' Boots)
11%
Mary Stavin (Strip)
4%
Sara Stockbridge (Room at the Top)
6%
Total votes: 54