Adam Ant Convention 2011 Tickets Now on Sale
Submitted by admin on Sat, 21/05/2011 - 22:22
in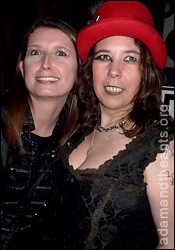 Tickets and information has been released for this year's Ant Lib Weekender - featuring our annual Adam & the Ants Celebration - to be held over the weekend of Friday 11 November - Saturday 12 November in Camden, London.
The Ant Liberation Front is proud to present the Ant Lib Weekender 2011 - nine hours of live Ant tributes, uber rare big screen Ant video, discount merchandise and the finest Antmusic - all to celebrate the 30th anniversary of the 3rd Adam & the Ants' LP Prince Charming.
This year we will be returning by popular demand to the Fiddler's Elbow in 'Ant Land' itself - Chalk Farm: one mile east from St John's Wood, one mile south from Hampstead and a short wymowheh from Camden High Street. For from just a tenner, you'll have a weekend to remember with fellow Adam Ant fans and freaks.
For tickets & information, including our special accommodation package deal, visit the Ant Lib Weekender event page or use the form below to order your tickets instantly.
And here's what we all got up to last year...
Photo: Seedy @ Antfan.com
Your rating:

None
Average:

5
(

1

vote)
Who's online
There are currently 0 users and 36 guests online.
Who's new
bugpowder
PixieM
buddyholly
sfc1870
bretty
This Month's Poll
Who's the quintessential 'Ant Video Girl'?
Amanda Donahoe (Antmusic, Stand & Deliver)
22%
Diana Dors (Prince Charming)
39%
Lulu (Ant Rap)
0%
Caroline Munro (Goody Two Shoes)
19%
Karen Landau (Puss 'n' Boots)
11%
Mary Stavin (Strip)
4%
Sara Stockbridge (Room at the Top)
6%
Total votes: 54