Bush Hall - and the Best Dressed Man in Town
Submitted by admin on Sun, 15/05/2011 - 18:58
in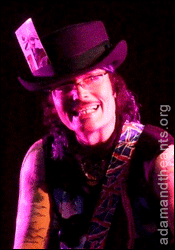 Adam Ant played live at the Bush Hall, Shephard's Bush on Monday 9 May 2011 - armed with a cheap ticket and a crumpled notebook Ant Lib's Madam Stan reports...
If you've been following us on Twitter these past 6-9 months, you can't have failed to notice our whinging and whining. Or the huffing and the puffing. The inflated prices hadn't helped Adam's cause. The predictable on stage (and off stage) strops hadn't helped Adam's cause. Slagging off Marco did him no favours, and, as for other generally shitty behaviour – well, we couldn't possibly comment on all that in the public domain.
As a warm-up for the forthcoming tour, this was never promised to be a behemoth of an Ant event, however with tickets exchanging hands for at least a third below face value on eBay, it would seem that expectations from the public at large were far from high for Adam's return to W12 – sixteen years on from his now legendary London comeback at the Shepherd's Bush Empire as part of the Wonderful tour in March 1995.
Arriving at the Bush Hall down the unfashionable end of the BBC's famous postcode, the venue was modestly showing signs of life in the main auditorium. The support from Poussez Posse (featuring Georgina Baillie on (hem) 'vocals' and Spizz Energi's lovely daughter Molly on bass) had already finished, yet the 350 capacity venue was only a third full.
Making a quick exit to the upstairs smoking area (where, if you've attended Ant gigs at the Scala, you'll know it's usually where all the coolest cats catch up and talk about the good old Ant days), it wasn't long before the strains of the opening bars of Plastic Surgery began wafting up through the floor. Dressed all in black, reminiscent of the Dandy Highwayman look, Adam and his 'posse' were in fifth gear from the outset.
By now the venue had filled, but it was evident from the static, expressionless audience that the Planet Ant rent-a-crowd had been drafted in again. Whether this habit of filling Ant gigs with obviously Non-Ant Fans is to give comfort / confidence to Adam, or whether this is just merely making good guest list use of empty space is debatable, but it allows the motions of making your way to the front of stage less of a battle. The difference between the main crowd and the more Ant-flavoured first three rows was more than obvious.
A speeded-up version of Dog Eat Dog benefited from the evidently more professional approach of the players – in particular Chris McCormack who kept the band on course throughout the show which lasted almost two hours. This – thankfully – kept Adam's rants to a minimum. The only outburst occurring just before Catholic Day regarding Dirk Wears White Sox – but we'll let him off for that. The inexperience of the band did occasionally show with the odd miss-timed beat or dodgy chord but it was obvious the band had, at least, been rehearsing.
Gone were not only the rants, but also the painful live moments that have previously spoiled Ant performances of late – tuning guitars half way through songs, slagging former band members, doing half-arsed rock 'n' roll covers – all of which have left previous audiences bored and even irritable. This time around, Adam was focused on his music with minimal disruptive sycophantic activity both on and off the stage. A great selection of Ant back catalogue tracks were chosen for the set, which included fan favourites such as Press Darlings as well as A.N.T.S and Fat Fun for the encore – the cream of the cake for this 34th Anniversary show.
And it all left a good taste in the mouth for the tour – see you all in Brighton*! ;")
Full set list: Plastic Surgery / Dog Eat Dog / Cartrouble / Zerox / Deutscher Girls / Stand and Deliver / Catholic Day / Kings of the Wild Frontier / Beat My Guest / B-Side Baby / Wonderful / Press Darlings / Antmusic / Cleopatra / Goody Two Shoes / Never Trust A Man (With Egg on his Face) / Vive Le Rock / Christian D'or / Fall In / Prince Charming / A.N.T.S / Fat Fun / Get It On / Physical (You're So)
*and Cambridge, Portsmouth, London, Liverpool, Newcastle, York, Manchester and Southend – so far!
Photos: Punky 'Pickle' Wilson
Tour Dates & Tickets: Click here
Who's online
There are currently 0 users and 35 guests online.
Who's new
bugpowder
PixieM
buddyholly
sfc1870
bretty
This Month's Poll
Who's the quintessential 'Ant Video Girl'?
Amanda Donahoe (Antmusic, Stand & Deliver)
22%
Diana Dors (Prince Charming)
39%
Lulu (Ant Rap)
0%
Caroline Munro (Goody Two Shoes)
19%
Karen Landau (Puss 'n' Boots)
11%
Mary Stavin (Strip)
4%
Sara Stockbridge (Room at the Top)
6%
Total votes: 54