Happy New Year, Antpeople!
Submitted by admin on Fri, 31/12/2010 - 19:22
in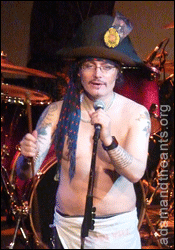 Royal Wedding in the offing, riots on the streets of London, snow at Christmas, Tories sucking the lifeblood out of the social sector, and live Ant Shows a-plenty - you could almost be forgiven for confusing 2010 with 1981! ;")
It's been a busy old year for Ant Lib as well as Adam - with a new Ant Lib Online launched in February/March, Warriors 4 completed in the summer and a packed-out Ant Lib Weekender in November. We'd like to take this opportunity to thank you for your support during these very busy twelve months (the busiest of all our 12 years so far!) and wish all members, subscribers and supporters a very happy & prosperous New Year.
But enough of all that sentimental stuff, our Caroline's put together a rather nifty video of Adam & Ant Lib's antics in 2010, featuring interview clips, live shows and sneak preview footage from our 10th Adam & the Ants Celebration (a full report to follow soon), so enjoy - and here's to 2011, in which we hope there'll be much more of the same!
Your rating:

None
Average:

5
(

1

vote)
Who's online
There are currently 0 users and 79 guests online.
Who's new
bugpowder
PixieM
buddyholly
sfc1870
bretty
This Month's Poll
Who's the quintessential 'Ant Video Girl'?
Amanda Donahoe (Antmusic, Stand & Deliver)
22%
Diana Dors (Prince Charming)
39%
Lulu (Ant Rap)
0%
Caroline Munro (Goody Two Shoes)
19%
Karen Landau (Puss 'n' Boots)
11%
Mary Stavin (Strip)
4%
Sara Stockbridge (Room at the Top)
6%
Total votes: 54