Adam Ant: "Up and Down Like a Bride's Nightie"
Submitted by admin on Tue, 27/04/2010 - 22:43
in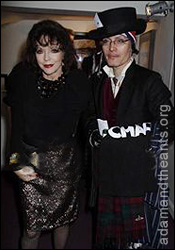 While Antpeople buff up their leathers in anticipation for this Friday's Scala gig, The Quietus music blog has published its unabridged interview with Adam Ant (pictured right with Joan Collins at the Little Black Gallery, last Thursday) in a warts 'n' all feature by lifelong Ant fan and long-term Ant Lib member Simon Price.
Politicians, David Bowie, Paul Morley, Liam Gallagher and Bono all fall victim the wrath of Ant, with Adam talking candidly - albeit erratically - about his ongoing mental health issues, recent 'guerilla' activities and "taking the piss".
Read the full article here.
Simon's feature also refers to Adam's most recent impromptu performance at his clubnight Stay Beautiful last Friday night. Here's the only clip from the show we could find on YouTube where Adam doesn't butcher his back catalogue - instead choosing to do it to somebody else's...
Your rating:

None
Average:

5
(

2

votes)
Who's online
There are currently 0 users and 16 guests online.
Who's new
bugpowder
PixieM
buddyholly
sfc1870
bretty
This Month's Poll
Who's the quintessential 'Ant Video Girl'?
Amanda Donahoe (Antmusic, Stand & Deliver)
22%
Diana Dors (Prince Charming)
39%
Lulu (Ant Rap)
0%
Caroline Munro (Goody Two Shoes)
19%
Karen Landau (Puss 'n' Boots)
11%
Mary Stavin (Strip)
4%
Sara Stockbridge (Room at the Top)
6%
Total votes: 54