Submitted by admin on Sat, 20/03/2010 - 01:17
in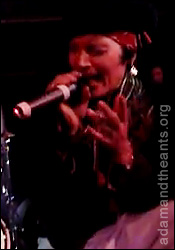 Adam Ant took to the stage for a short, but highly memorable, live performance this evening with veteren alternative rockers Zodiac Mindwarp & the Love Reaction at the Pipeline Bar, London E1.
It may have been a 'secret' gig but it was by no means shy and retiring, as Adam wowed the audience of the small east London club with an "awesome" interpretation of the Zodiac Mindwarp classic Top 20 hit Prime Mover.
Will Crewdson of Rachel Stamp (who collaborated live with Adam & Marco back in 1997) told Ant Lib Online: "During the last encore Adam jumped up and shouted something like 'Come on you c*nts' about three times and Zodiac introduced him as he went straight into Prime Mover. I never saw Adam pre-Prince Charming live but I felt like I was watching him perform at the Marquee in '78 tonight. He pulled all the moves and was vicious as ever. This is what he needs to be doing - full on Punk Rock."
You can watch footage of Adam's show-stopping, shirt-stripping live performance below (apologies for lack of sound!)....
New video! Our mate Dyler Plummer has since added a new video of Adam Ant's appearance with sound... enjoy!
Your rating:

None
Average:

5
(

1

vote)
Who's online
There are currently 0 users and 13 guests online.
Who's new
bugpowder
PixieM
buddyholly
sfc1870
bretty
This Month's Poll
Who's the quintessential 'Ant Video Girl'?
Amanda Donahoe (Antmusic, Stand & Deliver)
22%
Diana Dors (Prince Charming)
39%
Lulu (Ant Rap)
0%
Caroline Munro (Goody Two Shoes)
19%
Karen Landau (Puss 'n' Boots)
11%
Mary Stavin (Strip)
4%
Sara Stockbridge (Room at the Top)
6%
Total votes: 54