Adam Ant Live: Back with the Glitter Band This Weekend - Birmingham & Manchester
Submitted by admin on Tue, 13/04/2010 - 22:17
in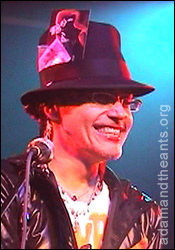 The Glitter Band have this evening confirmed that Adam Ant will again be appearing as Special Guest for their forthcoming gigs this weekend in Birmingham (Friday night) and Manchester (Saturday night).
Spurred on by their live collaboration of Antmusic last Friday night at The Scala, the glam legends will again be joined by special guests Adam Ant and Angie Bowie for the following regional gigs:
Friday 16 April 2010: Eddie's Rock Club
Gough Street, Birmingham B1 1HN
Saturday 17 April 2010: Satan's Hollow
101 Princess Street, Manchester M1 6DD
Adam is currently planning on performing up to six Ant tunes with the Glitter Band, plus a couple of covers with style icon Angie Bowie. Ant Lib favourites Mechanical Cabaret will also be performing their cover of Desperate But Not Serious in the hope that Adam will join them for a chorus or three...
For further information & tickets for upcoming Adam Ant gigs, visit the Flag Promotions website.
Who's online
There are currently 0 users and 12 guests online.
Who's new
bugpowder
PixieM
buddyholly
sfc1870
bretty
This Month's Poll
Who's the quintessential 'Ant Video Girl'?
Amanda Donahoe (Antmusic, Stand & Deliver)
22%
Diana Dors (Prince Charming)
39%
Lulu (Ant Rap)
0%
Caroline Munro (Goody Two Shoes)
19%
Karen Landau (Puss 'n' Boots)
11%
Mary Stavin (Strip)
4%
Sara Stockbridge (Room at the Top)
6%
Total votes: 54