Adam Ant Live at the Garage - 2 April 2011 - Video Exclusive
Submitted by admin on Sun, 03/04/2011 - 12:14
in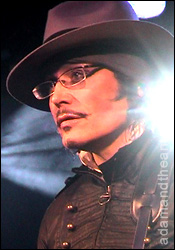 Adam Ant played a live forty minute solo set at the Relentless Garage, London as part of the We Love Japan fundraiser last night.
Wearing a black military jacket and skinny black jeans, Adam headlined the charity showcase, which was quickly organised to raise money for the Japan Society Tohoku Earthquake Relief Fund - almost exactly a year on from Adam's controversial solo appearance at Shore Leave. There was a measured improvement to the Ant solo show a year on, but it was evident that the set lacked the focus and sophistication one would expect for an upcoming tour - something we hope a backing band will bring.
This was a second charity gig of the week, with Adam also making a brief appearance at the Get Tested! Hepatitis C Trust benefit at the Jazz Cafe on Thursday 31 March, at which he performed Young Parisians and Get it On with show organiser and fellow 80s legend Boy George.
Adam also performed a private show on Friday 1st April at Woody's Tattoo Studio in High Wycombe, Buckinghamshire.
Adam's full set list for Saturday 2 April 2011: Young Parisians, Get it On, Cartrouble, Honky Tonk Woman, Cleopatra, Never Trust a Man (with Egg on His Face), Cast Iron Arm, Ants Invasion, Peggy Sue, No Fun, Wild Thing, Prince Charming and Physical.
For more on the Japan Society Tohoku Earthquake Relief Fund click here
For more on the Hepatitis C Trust click here
Watch highlights exclusively edited from the show...
Watch Adam perform Young Parisians with Boy George for Get Tested! on 31st March 2011...
Who's online
There are currently 0 users and 33 guests online.
Who's new
bugpowder
PixieM
buddyholly
sfc1870
bretty
This Month's Poll
Who's the quintessential 'Ant Video Girl'?
Amanda Donahoe (Antmusic, Stand & Deliver)
22%
Diana Dors (Prince Charming)
39%
Lulu (Ant Rap)
0%
Caroline Munro (Goody Two Shoes)
19%
Karen Landau (Puss 'n' Boots)
11%
Mary Stavin (Strip)
4%
Sara Stockbridge (Room at the Top)
6%
Total votes: 54