Adam Ant Live: Pirate Metal Extravaganza (R) at The Scala Friday 30 April 2010
Submitted by admin on Mon, 12/04/2010 - 18:52
in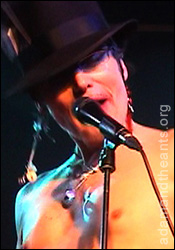 Adam Ant, in association with Monsta Entertainments and Flag Promotions, has announced a return to The Scala, London for the Adam Ant Pirate Metal Extravaganza (R) on Friday 30 April 2010.
Tickets are on sale now, limited to 3 per person, from Ticketweb for £17. Additional limited quantities will be available direct from the Flag Promotions website and in person at the Stargreen ticket office in the next day or so.
But hurry, this event is likely to sell out by the end of the week as capacity is limited. THIS EVENT IS NOW SOLD OUT.
Admission includes entry to the official Adam Ant aftershow party 'Unseaworthy' (a smart renaming of the regular 'Unholy' club night held at the venue) which will follow Adam's appearance at the Scala - featuring DJs Frankie D (Flag), Jo the Waiter (Unholy) and Madam Stan of the Ant Liberation Front, spinning both Adam & the Ants and related bands until 3am.
Who's online
There are currently 0 users and 34 guests online.
Who's new
bugpowder
PixieM
buddyholly
sfc1870
bretty
This Month's Poll
Who's the quintessential 'Ant Video Girl'?
Amanda Donahoe (Antmusic, Stand & Deliver)
22%
Diana Dors (Prince Charming)
39%
Lulu (Ant Rap)
0%
Caroline Munro (Goody Two Shoes)
19%
Karen Landau (Puss 'n' Boots)
11%
Mary Stavin (Strip)
4%
Sara Stockbridge (Room at the Top)
6%
Total votes: 54