Adam Ant Live at the Southwark Playhouse - Video Exclusive
Submitted by admin on Sun, 21/03/2010 - 03:44
in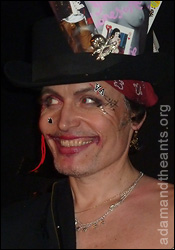 Further to our exclusive breaking news Thursday night, Adam Ant played a thirty minute set at the Southwark Playhouse, London as part of the Shore Leave club night special one-off tonight.
Wearing top hat, elaborate make up and decorations, Adam drew in a modest crowd of Ant faithful from as far as the USA, Netherlands and Belgium to the arches under London Bridge station. Unfortunately dogged by poor sound and an apparent short attention span, Adam spent much of the time flitting from one song to the next, peppering intervals with quips on Sony records, an alleged £2.6million O2 deal, new album collaboration with Chris McCormack (of Three Colours Red and Gary Numan's live band) and new, improved physique which was on full display for most of the set.
Adam's set list for Saturday 20 March included: Physical, Cleopatra, Cartrouble, Young Parisians, Peggy Sue, Cast Iron Arm and Physical (reprise).
Watch highlights exclusively edited from the show...
NEW video added to YouTube - first five minutes unedited...
Your rating:

None
Average:

5
(

1

vote)
Who's online
There are currently 0 users and 7 guests online.
Who's new
bugpowder
PixieM
buddyholly
sfc1870
bretty
This Month's Poll
Who's the quintessential 'Ant Video Girl'?
Amanda Donahoe (Antmusic, Stand & Deliver)
22%
Diana Dors (Prince Charming)
39%
Lulu (Ant Rap)
0%
Caroline Munro (Goody Two Shoes)
19%
Karen Landau (Puss 'n' Boots)
11%
Mary Stavin (Strip)
4%
Sara Stockbridge (Room at the Top)
6%
Total votes: 54