Adam Ant Live at the Water Rats - 7 April 2011 - Video Exclusive
Submitted by admin on Sun, 10/04/2011 - 18:21
in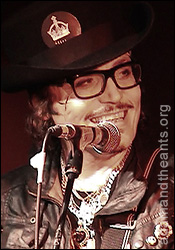 Adam Ant performed at the Monto Water Rats as part of the live bill for the Little Episodes book launch last Thursday.
It's been a busy week on Planet Ant this week, with Adam appearing and performing at the the Society Film Club's Q&A and screening of Jubilee on Monday, interviewed for ITV's Loose Women on Wednesday and playing a short set the next day at the Water Rats with backing from Georgina Baillie and Twinkle, the latter a new addition to the Ant band.
Adam's full set list for Thursday 7 April 2011: Cleopatra, Get it On, Cartrouble, Never Trust a Man (with Egg on His Face), Honky Tonk Woman, No Fun and Physical.
Watch highlights exclusively edited from the show...
Who's online
There are currently 0 users and 40 guests online.
Who's new
bugpowder
PixieM
buddyholly
sfc1870
bretty
This Month's Poll
Who's the quintessential 'Ant Video Girl'?
Amanda Donahoe (Antmusic, Stand & Deliver)
22%
Diana Dors (Prince Charming)
39%
Lulu (Ant Rap)
0%
Caroline Munro (Goody Two Shoes)
19%
Karen Landau (Puss 'n' Boots)
11%
Mary Stavin (Strip)
4%
Sara Stockbridge (Room at the Top)
6%
Total votes: 54