Submitted by admin on Mon, 22/03/2010 - 01:05
in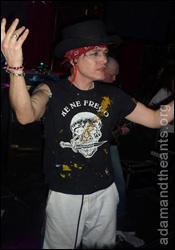 Adam Ant grabbed the mic for a short live appearance at the Monarch's regular Sunday hard rock evening on Camden High Street tonight as part of his current assault on London's live circuit.
Playing alongside members of Zodiac Mindwarp's Love Reaction band, Adam performed Prime Mover for a second time this week. Wearing a slightly more accurate application of lipstick than that of the previous night at the Southwark Playhouse, Adam was also called to the stage by headliners Metalworks for a version of Born to Be Wild before making his leave.
Where Adam will pop up next is anyone's guess, but we're hoping he'll get a chance to wash the trousers he's been wearing the past three days!
Photo: Dyler Plummer
Your rating:

None
Average:

4
(

2

votes)
Who's online
There are currently 0 users and 5 guests online.
Who's new
bugpowder
PixieM
buddyholly
sfc1870
bretty
This Month's Poll
Who's the quintessential 'Ant Video Girl'?
Amanda Donahoe (Antmusic, Stand & Deliver)
22%
Diana Dors (Prince Charming)
39%
Lulu (Ant Rap)
0%
Caroline Munro (Goody Two Shoes)
19%
Karen Landau (Puss 'n' Boots)
11%
Mary Stavin (Strip)
4%
Sara Stockbridge (Room at the Top)
6%
Total votes: 54