Adam Ant Plays Free Gig at Proud, Camden
Submitted by admin on Wed, 05/01/2011 - 22:33
in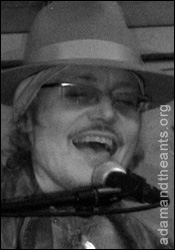 Adam played a modest live acoustic gig earlier this evening with Rapid Fire Radio vocalist/guitarist Mick Lynes for the Bloody Awful Poetry Elysian Nights night of alternative music and performance at Proud Camden in north London - his first (known) live concert performance of 2011.
Adam performed a 22 minute set consisting of mostly covers: Get It On (T-Rex) / I Walk the Line (Johnny Cash) / Peggy Sue (Buddy Holly) / No Fun (Iggy & the Stooges) / Physical (Adam & the Ants*) / Honky Tonk Women (Rolling Stones).
Despite the recession-busting gig on offer this evening, Adam's back to performing for the bourgeoisie with two shows planned for the 350-capacity 100 Club (and possibly Ronnie Scott's) later this month.
With tickets again currently priced in excess of half an tonne each, we just hope he's making a fair donation to the Oxford Street venue's survival campaign in return...
*Obviously
Your rating:

None
Average:

3
(

2

votes)
Who's online
There are currently 0 users and 79 guests online.
Who's new
bugpowder
PixieM
buddyholly
sfc1870
bretty
This Month's Poll
Who's the quintessential 'Ant Video Girl'?
Amanda Donahoe (Antmusic, Stand & Deliver)
22%
Diana Dors (Prince Charming)
39%
Lulu (Ant Rap)
0%
Caroline Munro (Goody Two Shoes)
19%
Karen Landau (Puss 'n' Boots)
11%
Mary Stavin (Strip)
4%
Sara Stockbridge (Room at the Top)
6%
Total votes: 54