Adam Ant Returns to the Fold
Submitted by admin on Mon, 21/06/2010 - 08:54
in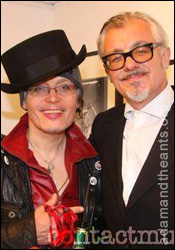 One month after his most recent admittance to hospital, Adam Ant is back on the town. Attending the invitation-only launch party for Mark Powell's latest store in Soho last Thursday, Adam mixed with the likes of Paul Weller, Martin Freeman and old punk pal Chris Sullivan (pictured, right).
Looking fresh-faced from his 28 day stay at 'Her Majesty's Pleasure', Adam was also spotted in Chelsea at the weekend jamming at a local bar - fuelling speculation that he may be returning to London's underground live circuit in the coming months.
From the hundreds messages we received on news of Adam's recent hospitalisation, fans are generally hoping Adam will take it a bit easy for a while and not rush a comeback this time around.
Photo: ContactMusic.com
Who's online
There are currently 0 users and 35 guests online.
Who's new
bugpowder
PixieM
buddyholly
sfc1870
bretty
This Month's Poll
Who's the quintessential 'Ant Video Girl'?
Amanda Donahoe (Antmusic, Stand & Deliver)
22%
Diana Dors (Prince Charming)
39%
Lulu (Ant Rap)
0%
Caroline Munro (Goody Two Shoes)
19%
Karen Landau (Puss 'n' Boots)
11%
Mary Stavin (Strip)
4%
Sara Stockbridge (Room at the Top)
6%
Total votes: 54