Adam Ant Sectioned Under Mental Health Act
Submitted by admin on Wed, 19/05/2010 - 22:14
in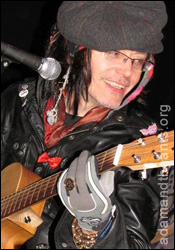 Adam Ant has been sectioned under the Mental Health Act 1983 following reports of an incident yesterday (Tuesday 18 May) evening.
Last week, the UK press reported controversy surrounding Adam's appearance at the Oasis, Portsmouth on Monday 10 May. Adam has since returned to London where he performed with his live band at Paper Dresstival, Curtain Road, EC2 on Saturday 15 May.
Adam is currently undergoing initial psychiatric assessment and more details will follow when appropriate. Ant Lib Online would like to wish Adam all the best in his recovery.
Update: Thursday 20 May - 12noon:
Message from Adam:
"Ant fans - please send me postcards at the Chelsea & Westminster Hospital, Fulham Road. Please dont come down here as it may upset the staff who have been really pleasant. I am having a well earn rest at Her Majesty's pleasure and am painting and continuing being an art student. I have a great view and am considering gigs later in the year. x
Please feel free to use our contact form to send any messages of support to Adam.
Photo: Nick Courtney
Who's online
There are currently 0 users and 36 guests online.
Who's new
bugpowder
PixieM
buddyholly
sfc1870
bretty
This Month's Poll
Who's the quintessential 'Ant Video Girl'?
Amanda Donahoe (Antmusic, Stand & Deliver)
22%
Diana Dors (Prince Charming)
39%
Lulu (Ant Rap)
0%
Caroline Munro (Goody Two Shoes)
19%
Karen Landau (Puss 'n' Boots)
11%
Mary Stavin (Strip)
4%
Sara Stockbridge (Room at the Top)
6%
Total votes: 54