Submitted by admin on Tue, 29/03/2011 - 22:45
in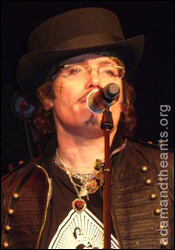 Today became 'Ant Tuesday' with Adam holding a press conference at Stamford Bridge, appearing on John Humphrys' On the Ropes for Radio 4, trending on Twitter for the first time and even an Ant exposé from Gary Numan in this morning's Metro newspaper.
Performing a private showcase (pictured, right) for a carefully selected audience of media and industry knobs, Adam revealed his new band and forthcoming full UK tour. Further to the previously announced Brighton show exclusively revealed by Ant Lib last week, Adam has added more dates for May and June 2011 as well as a screening of the Prince Charming Revue with Q&A at the Coronet in Elephant & Castle, South London Notting Hill on Wednesday 11th May.
Dates as follows:
Wed 11 May - London Coronet (Prince Charming Revue screening/Q&A)
Mon 16 May - Brighton* Concorde2 - SOLD OUT
Tue 17 May - Cambridge The Junction - SOLD OUT
Wed 18 May - Portsmouth Wedgewood Rooms - SOLD OUT
Sat 21 May - Dundee Fat Sams
Sun 22 May - Inverness Ironworks
Mon 23 May - Glasgow O2 ABC Academy - NEW VENUE!
Tue 24 May - Sheffield O2 Academy
Thu 26 May - London Indigo2
Sat 28 May - Liverpool O2 Academy
Sun 29 May - Newcastle O2 Academy
Tue 31 May - Cardiff Coal Exchange
Wed 1 June - Birmingham O2 Academy
Fri 3 June - Holmfirth* Picturedrome - SOLD OUT
Sat 4 June - York Duchess - SOLD OUT
Sun 5 June - Manchester Academy
Fri 17 June - Exeter Phoenix - NEW DATE ADDED
Sat 18 June - Falmouth Princess Pavillions - NEW DATE ADDED
Mon 20 June - Poole Mr Kyps - NEW DATE ADDED
Tue 21 June - Brighton Concorde2 - NEW DATE ADDED
Wed 22 June - Southend Chinnerys - NEW DATE ADDED
Sun 26 June - London - Hard Rock Calling Hyde Park
All tickets go on sale Friday 1 April 2011 (except dates marked with a * which are available NOW) from Ticketweb, See Tickets and Ticketmaster, again for sensible prices of around the £20 mark.
Aftershow Parties
If you would like to be involved with the organisation of aftershow parties for the above gigs or can suggest suitable small (cheap ...or free!) venues willing to host an event in any of the above towns, please do drop us a line ASAP.
Adam also addressed issues surrounding the much talked about new album, with release plans now shelved until 2012. So, apparently this tour will not be to promote new material.
Photo: Carol Pearson
Who's online
There are currently 0 users and 38 guests online.
Who's new
bugpowder
PixieM
buddyholly
sfc1870
bretty
This Month's Poll
Who's the quintessential 'Ant Video Girl'?
Amanda Donahoe (Antmusic, Stand & Deliver)
22%
Diana Dors (Prince Charming)
39%
Lulu (Ant Rap)
0%
Caroline Munro (Goody Two Shoes)
19%
Karen Landau (Puss 'n' Boots)
11%
Mary Stavin (Strip)
4%
Sara Stockbridge (Room at the Top)
6%
Total votes: 54