Adam & the Ants and Bow Wow Wow Members Reunite for McLaren Funeral
Submitted by admin on Fri, 23/04/2010 - 22:51
in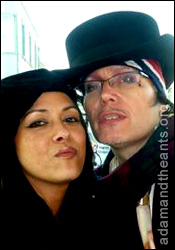 As punks, alternatives and Antpeople alike lined Camden High Street yesterday afternoon, members of Adam & the Ants and Bow Wow Wow buried the hatchet and came together to celebrate the colourful life of Malcolm McLaren, who passed away on 8 April 2010.
Marco Pirroni, Dave Barbe, Jordan, Adam Ant and Annabella Lwin (the latter of which are pictured together, right) were all in attendence with the funeral cortège, which included traditional horse drawn hearse plus a reveller-filled doubledecker bus to Nowhere pumping out Sex Pistols and McLaren hits, moving onto a star-studded wake at Proud, Camden Lock.
A new interview with Adam will feature as part of a documentary tribute Malcolm McLaren: Artful Dodger, aired 8.15pm Saturday 24 April on BBC2.
Photo: Dyler Plummer
Who's online
There are currently 0 users and 32 guests online.
Who's new
bugpowder
PixieM
buddyholly
sfc1870
bretty
This Month's Poll
Who's the quintessential 'Ant Video Girl'?
Amanda Donahoe (Antmusic, Stand & Deliver)
22%
Diana Dors (Prince Charming)
39%
Lulu (Ant Rap)
0%
Caroline Munro (Goody Two Shoes)
19%
Karen Landau (Puss 'n' Boots)
11%
Mary Stavin (Strip)
4%
Sara Stockbridge (Room at the Top)
6%
Total votes: 54