All Girl Action for Adam Ant Band
Submitted by admin on Fri, 16/07/2010 - 19:39
in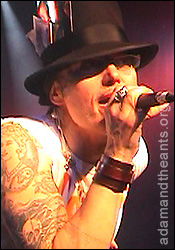 We all know from his autobiography that Adam has a prolific eye for the ladies, but it would seem he's replaced his Pirate Extravaganza with an ALL FEMALE band for forthcoming London shows over the summer months.
Currently in rehearsals in east London, Adam is working with a new backing band featuring original Babyshambles drummer Gemma Clarke for a revamped live set which includes a large chunk of tracks from unreleased solo project Persuasion for a rumoured show at the Electric Ballroom on Thursday 12 August.
Also in the band is Gemma's pal Claire Wakeman, lead guitarist/vocalist with the Suffrajets and underground NME darlings The Krak. It is understood the only remaining member of Adam's original 2010 live band is guitarist Miles Davis Landesman who has been quite open about the Electric Ballroom show on his Facebook page.
There are t's to be crossed and i's to be dotted first, but look out for official confirmation from the promoters early next week relating to forthcoming live Adam Ant shows.
In the meantime, there will be a hint of Ant essence for the Spear of Destiny gig at Electrowerkz (Slimelight), London EC1V 1NQ on Saturday 24 July - with Marco's mates Department S, Pirate Extravaganza's The Cesarians, and Ant Lib All Dayer 2007 openers Dead Heaven supporting; plus Ant Lib's Madam Stan will be DJing the aftershow. Simply tell the door staff "There's a whip in my valise" for half price entry (£7) all night - bargain!
Who's online
There are currently 0 users and 39 guests online.
Who's new
bugpowder
PixieM
buddyholly
sfc1870
bretty
This Month's Poll
Who's the quintessential 'Ant Video Girl'?
Amanda Donahoe (Antmusic, Stand & Deliver)
22%
Diana Dors (Prince Charming)
39%
Lulu (Ant Rap)
0%
Caroline Munro (Goody Two Shoes)
19%
Karen Landau (Puss 'n' Boots)
11%
Mary Stavin (Strip)
4%
Sara Stockbridge (Room at the Top)
6%
Total votes: 54