From Punky Pirate to Salty Sea Dog - Adam Ant Hits Portsmouth
Submitted by admin on Sun, 09/05/2010 - 18:31
in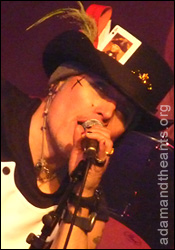 As local media have recently reported, Adam has been taking time out from his hectic London lifestyle to drop by the historic southern seaside city of Portsmouth for the latest leg of guerilla one-man performances.
According to event organiser Nick Courtney, Adam is on the bill for tomorrow night (Monday 10 May) for 'Oasis'* Got Talent - An Evening of Live Entertainment' at Oasis - The Venue, Portsmouth, where he will "play some acoustic songs" in aid of disadvantaged children in the Philipines. At only a fiver admission fee for a charitable cause, it's worth checking out if you're in the Hampshire area. Children welcome.
Find out more on Nick Courtney's event news page here.
Add your RSVP to the event's Facebook page here.
Thanks to Bruce Ashcroft and Suzanne Sumner for putting this event on the Ant Lib Online radar...
*Not that Oasis, obviously.
Who's online
There are currently 0 users and 19 guests online.
Who's new
bugpowder
PixieM
buddyholly
sfc1870
bretty
This Month's Poll
Who's the quintessential 'Ant Video Girl'?
Amanda Donahoe (Antmusic, Stand & Deliver)
22%
Diana Dors (Prince Charming)
39%
Lulu (Ant Rap)
0%
Caroline Munro (Goody Two Shoes)
19%
Karen Landau (Puss 'n' Boots)
11%
Mary Stavin (Strip)
4%
Sara Stockbridge (Room at the Top)
6%
Total votes: 54