The Wolfmen Return - with a new cub in the Big Man's shoes
Submitted by admin on Sun, 10/07/2011 - 20:15
in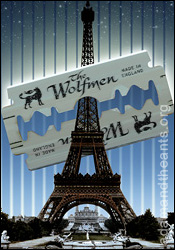 The Wolfmen are back! And this time they mean business with a new album Married to the Eiffel Tower and gigs a-plenty kicking off this Thursday at the 100 Club, Oxford Street.
The Wolfmen, named the Antpeople's favourite Adam & the Ants offshoot band in our poll is, of course, the pet studio project of former Ant axemen Marco Pirroni and Chris Constantinou. With Marco now retired from live shows, Ant aficionados could be excused for worrying that the Wolfmen may have lost some of their bite for the forthcoming tour. But have no fear, new cub in the den (and top Marco impersonator) Ciaron Marlow is on the scene to step into the Big Man's shoes.
"I got to know Marco around the time that the Wolfmen were starting and we worked on a number of songs together - Marco was kind enough to send me some guitar straps, one of which he used at Live Aid. Now let me tell you, for me, that was quite something!", recalls Ciaron, who cites Adam & The Ants as a key influence with Marco as his inspiration - learning to play guitar as a child from Ant song books, playing along to the records.
"When the Wolfmen's material started to surface I naturally gravitated towards it because it was Marco and Chris. Vive Le Rock has always been my favourite Adam Ant album, so anything with half of that team on it had got to be worth checking out and I was hooked straight away. I joked with Marco that if they ever took the band out on the road, and they needed a second guitarist, then give me a call".
Chris naturally wanted to play live but Marco had retired from life-on-the-road so the Wolfmen needed someone to fill his shoes. "They didn't have to ask me twice!!" says Ciaron, who began his Ant tribute career with Madam & the Ants in 2004 and is now a regular at Ant Lib events. To Ciaron's amazement, it transpired that he was Marco's first choice as replacement live guitarist.
"Things are shaping up really, really well", reports Ciaron, "We've got a really strong band line up and the songs are all sounding great. I'm really looking forward to the show at the 100 Club. The place has so much history so to be a small part of that lineage is really special thing".
We'd like to wish Ciaron and the Wolfmen the very best for the forthcoming shows. The Wolfmen play 100 Club this Thirsday (14 July), followed by a residency at the AlleyCat Bar, Denmark Street from Saturday 3 September.
Married to the Eiffel Tower is available now from Amazon.co.uk with CD format to be found in all half decent record shops from August.
Who's online
There are currently 0 users and 34 guests online.
Who's new
bugpowder
PixieM
buddyholly
sfc1870
bretty
This Month's Poll
Who's the quintessential 'Ant Video Girl'?
Amanda Donahoe (Antmusic, Stand & Deliver)
22%
Diana Dors (Prince Charming)
39%
Lulu (Ant Rap)
0%
Caroline Munro (Goody Two Shoes)
19%
Karen Landau (Puss 'n' Boots)
11%
Mary Stavin (Strip)
4%
Sara Stockbridge (Room at the Top)
6%
Total votes: 54