The Sun - Adam Ant: Don't Bother Coming to My Shows!
Submitted by admin on Fri, 31/12/2010 - 17:45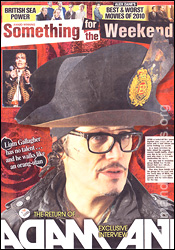 That's the New Year's message to Ant fans concerned for Adam's health as he plays (half-empty) concerts this winter.
Interviewed in the Sun's Something for the Weekend supplement, Adam muses that "Some fans say I should still be taking medication. Well, I have one thing to say to them - don't bother coming to my shows."
Although, by charging inflated prices for concert tickets, Adam's already priced out most of his committed UK supporters from attending recent gigs.
Adam also airs his dirty laundry with rants aimed at Liam Gallagher (again), the Goverment (again), the music industry (again) and Marco: "I'll never work with Marco again, never. Let's just say I wrote the songs while he was in the room. If he walked in here now I would just walk out."
Good luck with the new album Adam, and Happy New Year from us too.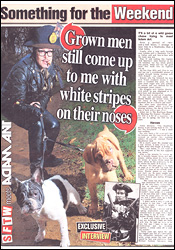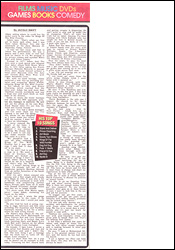 Do you agree with Adam? Are you staying away from future live shows?
Is Adam right to dismiss Marco's contribution to Antmusic?
Or is this interview merely evidence that Adam is clearly unwell? Have your say!
Who's online
There are currently 0 users and 78 guests online.
Who's new
bugpowder
PixieM
buddyholly
sfc1870
bretty
This Month's Poll
Who's the quintessential 'Ant Video Girl'?
Amanda Donahoe (Antmusic, Stand & Deliver)
22%
Diana Dors (Prince Charming)
39%
Lulu (Ant Rap)
0%
Caroline Munro (Goody Two Shoes)
19%
Karen Landau (Puss 'n' Boots)
11%
Mary Stavin (Strip)
4%
Sara Stockbridge (Room at the Top)
6%
Total votes: 54