Vive Le Rock Magazine - Adam Ant Cover Feature - Out Now!
Submitted by admin on Sat, 19/02/2011 - 00:09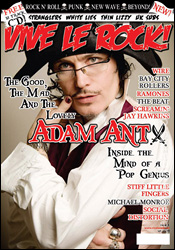 Issue two of the extremely Ant-friendly quarterly post-punk music magazine Vive Le Rock is out today (Saturday 19th February 2011), featuring Adam Ant as this edition's cover star.
Interviewed by John Robb (of Goldblade fame and general BBC arty review bod), VLR's editor Eugene Butcher revealed to us earlier this week that Adam talks about all his favourite people, the people he wants to beat up (that'll be Liam Gallagher and Marco, again then...?!) plus his battles with mental illness. Eight pages of exclusive photos also feature.
As a double Ant whammy, Marco and Chris C are on the bonus cover CD with a track from Ant Lib monthly poll-winners The Wolfmen, who are soon to release their new album Married to the Eiffel Tower - available to pre-order now!
Vive Le Rock magazine, Issue 2 is available now from all half-decent newsagents across the UK or online.
But wait, there's more! The nice chaps at Vive Le Rock are proud to announce their debut photographic exhibition at the Orange Dot Gallery, London - showcasing iconic images of David Bowie, The Clash, The Damned, Devo and, of course, Adam himself. But hurry, the exhibition ends Tuesday 1 March.
Who's online
There are currently 0 users and 78 guests online.
Who's new
bugpowder
PixieM
buddyholly
sfc1870
bretty
This Month's Poll
Who's the quintessential 'Ant Video Girl'?
Amanda Donahoe (Antmusic, Stand & Deliver)
22%
Diana Dors (Prince Charming)
39%
Lulu (Ant Rap)
0%
Caroline Munro (Goody Two Shoes)
19%
Karen Landau (Puss 'n' Boots)
11%
Mary Stavin (Strip)
4%
Sara Stockbridge (Room at the Top)
6%
Total votes: 54