Interview › Terry Lee Miall
Submitted by admin on Wed, 03/03/2010 - 22:45
in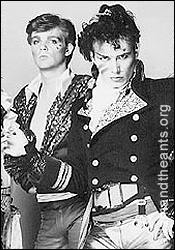 Back in October 1999, the Ant Lib organised its first full frontal (bathroom) function as a late night part of the annual Adam Ant Convention (back then organised by Umesh Mistry). A motley bunch of early Ant Lib members grabbed Adam & the Ants drummer 1980-1982 Terry Lee Miall for tasty grub and gossip at London's Rock Garden, Covent Garden.
Antpeople are in this type…
...and Terry Lee is in this one!
So, Terry tell us about your early influences?
Ringo Starr was the reason I got into drumming in the first place. John Bonham of Led Zeppelin …and Dave Barbe because I had to live up to him after he'd left the Ants. He's a fantastic drummer.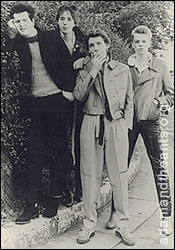 Who would you do on Stars in Their Eyes?
David Bowie coming out in all that Japanese stuff… Ziggy Stardust. I almost did it at school. It was a school play thing, people got up and had to do various people and I had shaved eyebrows at the time, my hair was carrot red and I was going to dress up and do it but it didn't happen in the end. But that's what I'd do.
Did you know Marco prior to being in the Beastly Cads and, if so, how?
They said: "we've met a guy who can play Ziggy Stardust, you'll have to come around and meet him", and that was it. We went round to Marco's mum and dad's house and rehearsed in his dad's garage, then formed the Beastly Cads thing. Marco had of course already done Flowers of Romance with Sid and all that.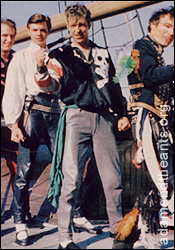 Did you see The Ants prior to becoming one?
1977 I suppose. Jordan was up on stage at that time and they were supporting The Models. I didn't pay much attention, to be honest with you. That was the only time I ever saw them. I didn't follow them at all prior to joining but when I joined, within the business the Ants apparently had a bad name – not that I knew at the time. It was like the band had the lurgie. Whether it was a personal thing with the guys in the music press, I'm not sure. They soon changed their tune though.
It must have been difficult making a name for yourself in the new Ants line-up and having to become successful?
I know – that was a real surprise when we joined – there was no mucking around. We weren't getting paid first of all. Once we'd got into rehearsals – once we'd done Kings and that got to 40 something – then there was an explosion as soon as we did Dog Eat Dog on Top of the Pops. It went 'whoosh'… overnight really.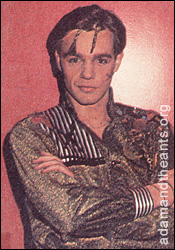 Did you realise that things would get so big on the Ants Invasion tour?
No, I didn't really. We were doing a university tour.
Didn't someone die in Bournemouth?
Yes she did. I didn't know about it 'til the next day, I don't remember a lot about that gig. I was really ill and I was basically behind the drums sick as a dog, but yeah a girl got crushed. But did you see anything in the paper about it? A life lost at a gig, I didn't see anything in the newspapers. If it had happened at one of Robbie [Williams]'s concerts…
It was at the tail end of punk…
It was a funny old place too, a strange gig. "A girl died last night" – basically that was it. We didn't hear more in any way again.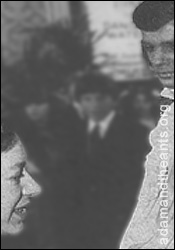 What was your influence on Antmusic?
When we got the Ants together – with the Cartrouble single, which although had my name on it I didn't play on it – it was Malcolm Mclaren that came up with the idea of the Burundi drums. Adam had taken Malcolm on as his manager for a short period of time and that was the way Malcolm saw Adam going. But then he stole the band and – I guess – Adam was pissed off and so went on with the Burundi thing for Kings of the Wild Frontier.
Do you think Adam had to keep up with pop stardom, because of Malcolm?
I think there was a rivalry definitely – a bit of one-up-man-ship with Malcolm and the guys in Bow Wow Wow. I think the whole machine thing behind it is the downfall of many bands. CBS signed us simply off the singer's life. I think that Adam had a lot of pressure to get the stuff out because of the success, once it came, they want everything they can get out of you.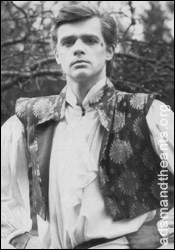 You just have to keep going as best as you can. When you're a few albums down the road, you can dictate a bit more. You can say 'look, I need more time', but we were quite new and didn't know how to deal with them. I'd do it differently now if I could go back.
Do you think it's the big music machine that it's made out to be?
Umm to an extent yeah. We all needed a rest – we'd been on the road for nearly two years. I didn't have a holiday as such in the meantime. We were either in or out of the studio or the states, Japan or somewhere and I think we just got sick of each other. I think if we'd actually have taken time out for a couple of months or something… Adam needed to regroup himself together, get a chance to write some good songs without having that machine thing behind you pushing you to get that album out and yet through that not necessarily getting the best songs on the album due to time...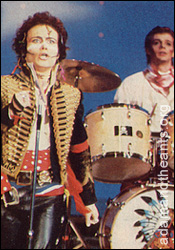 Did Kevin play on the Kings album?
Yeah, yes he did. Kevin played on all of it, there was one situation where, I can't think what song it was, Kev played the bass line on it, Adam wasn't happy with it, came down, changed it, and when Adam went, they put Kevin back on again while he had his lunch. He went back to the house, and we redid the bass track with Kevin. Kevin wasn't the best bass player at that time but he had a great image you know. He's 'in yer face' on stage. He was quite influential, and he was living with Adam's ex-wife Eve at the time. Eve was doing the costuming for the Kings stuff because we didn't have a lot of money, and she was into making clothes. She used to make the clothes for us.
How did you feel about the costumes and make-up?
I loved it. Because everyone in the band had been influenced by similar stuff – the Glam thing, T-Rex, David Bowie, Roxy Music – it was perfectly natural to go in.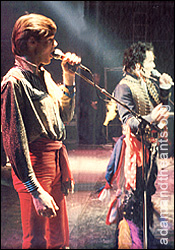 We had no qualms about wearing lipstick, we really loved it…we looked forward to it! It was good!
Is there a particular song you liked playing?
The most exciting was Stand and Deliver.
Did you really use coconuts?!
What the…??!
Marco said that!
It was not coconuts! The Antmusic[intro] thing right, that was Merrick, myself and Kevin standing in a hallway in a tiled corridor in the studio with two chairs and a lump of wood we found outside and made that clicking sound. We overdubbed it a few times and that's what that is. And what was the one that sounded like old British Rail doors? Dog Eat Dog? Old British Rail doors closing!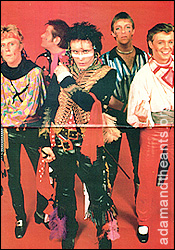 Was it?
No! But coconuts… I'd love to say it was… could have been… Marco ate the coconuts! I do prefer the Kings album to Prince Charming. It lost that edge – it turned to pandering to the owner. Songwriters write songs for themselves, they don't think about who's going to listen to stuff. It did change – and he [Adam] did. It was almost tongue in cheek too much. I think that's where his career has lacked, not that I'm one to talk because I don't write songs anyway, but I think he put it more towards the serious side. He tried not writing to sell, writing because he thought it was good. He didn't care because it's a good song.
Which do you hate?
Songs like… I don't know, pretty much anything off Prince Charming really. Mowhok and stuff, you know. I always ask myself: "if I wasn't in the band would I have liked Adam and the Ants?" I think 'possibly', initially Kings, being a drummer but then I would have lost interest.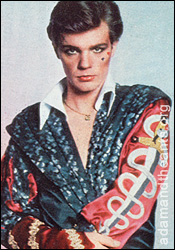 But when you're in a band your focus is blinkered by what you're doing – it was paying my wages, taking me around the world…
What's your favourite stuff? Do you prefer the Kings stuff, Prince Charming, or even his stuff after?
His next album!
How many studio albums has he done?
Seven or eight...
That's still a lot of songs. It's difficult to keep that musical side going. Plus where he's trying to go with the acting as well I'll give him credit for what he did. We got on fine. Adam and Gary didn't get on particularly well. Gary was a strong character coming into the band and hadn't come into the band under Adam's wing like we had. Gary had success, he wasn't going to take shit from anybody. He didn't care whether he was in the Ants or not – he could have gone somewhere else.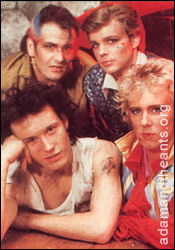 I personally would like to have seen the original Ants do a second album after Dirk, to see where they would have gone with the influence of the Burundi thing. I'd like to have seen Never Trust a Man (With Egg on His Face) done like that, Dirk is brilliant – it could have been bigger but people weren't ready for it.
The drugs don't work, or did they, and if so did Kevin Mooney supply them?!
No we didn't do any. Part of the contact was that if any of us got nicked for more than motoring offences we lost our royalties. Nobody really drank very much. You didn't have any of the band staggering about drunk or running naked up corridors or shit like that. It didn't happen… we came back sat around in the bar, had drinks… and 'Oh it's time for bed now'.
If the ants had stayed together, where do you think they would have gone?
I think we had at least another album or two in us. We needed that time off to appreciate each other again – you know,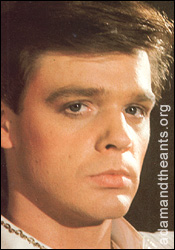 seeing each other every day, playing, hotels, gigs. We went through a monotonous thing. We needed to take out time ourselves and take a look at what we were doing. I'd like to have tried harder, the thing was we didn't question Adam at the time, everything was right, every song he'd written, what we were gonna wear. We never questioned anything.
I wish we had carried on, just to see… gone back to Kings rather than Prince Charming. Prince Charming was perfect – for we'd been through that Glam rock thing in our teens, but the rest of the world wasn't ready for it. America wasn't ready but we laid a stepping stone for Culture Club. Yeah I'd like to have gone back to the heavier drumming which is what people liked about the band to start off with. If you look at Goody Two Shoes, the single could have been us – it was Chris playing. I wish we had stayed together, I think everyone else feels the same way too.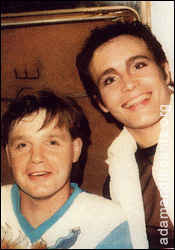 What did you do after the Ants?
I didn't do anything really. I was extremely upset that the Ants split up because it had been everything that I had ever wanted from a band – I really enjoyed it, I had a fantastic time. I was just really really down – and disillusioned almost – by the music business. I stopped playing completely, I moved to the States, got married and became a plumber, living a normal existence.
They get paid well though!
Yeah, about the same that I got in the Ants funnily enough!
Would you tour with a reformed Ants again?
To be honest I don't think Gary would do it, more chance of getting Kevin. Marco doesn't want to do it as he can't stand going on the road. Under the right situation I would because I loved doing it. I enjoyed touring all over the world – I'd love to do it, if it was right. I wouldn't just bowl into it without consideration. Yeah I'd love to, just because, it was all I wanted all that time ago.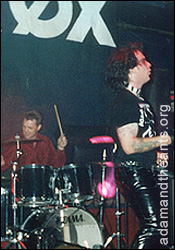 It hasn't changed now but I'd have to drag a family with me this time, the kids would love it. We'd be five old geezers… and we wouldn't care either!
Is there a place you wanted to go on tour but never did?
South America! Did Australia, Japan, the States, Canada. I wanted to go to Rio for the carnival, and also because they made loads of money. We'd have gone to Ireland too but for Kevin – he's Irish and thought he was under threat. He thought we would get bombed or something if we went over there. Yeah, South America.
You should have gone to New Zealand – a lot of people hadn't heard of the ants…
We went that far to Australia. What's an extra five hours?!
Two hours! You had a lot of number ones in Australia…
Antmusic was the fastest selling single of all time in Australia!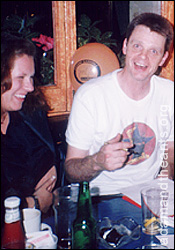 A lot of bands never came over – Culture Club, Duran. Yeah, didn't even know the Ants had split up for five months!
Neither did I! Yeah, there has never been an announcement as such that the band split up officially. There never has been – the band never officially talked about it. Everyone went home and it drifted down the grapevine.
Don't need to reform then!
Exactly!
Are you still in contact with Adam?
I haven't spoken to him for two years. I spoke to him October 1997, he asked if I was interested in getting the Ants back together. I said yes, he said he'd phone me back in a couple of weeks. He did but I haven't heard anything else since.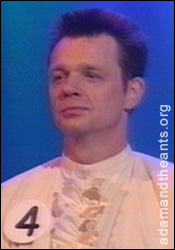 If Adam phoned you up tomorrow, and asked "Would you work with me on my next album?" what would you say?
What would I say? Yeah, Adam said to me not only the Albert Hall, but also a tour of the Sates, another album…
The Albert Hall was cancelled..?
Adam said he decided not on the Albert Hall in the end because it seats a few thousand. 2,000 are put aside for shareholders and get first refusal so you could be the biggest old fart in the world – like the Football Association handing out tickets to those who aren't into football – so then he was on about somewhere else. I think the Roundhouse.
Then he got married and had a baby, and didn't have the energy anymore – sleepless nights. I even phoned Adam after. I think I spoke to him to try and get a live link through to Adam on the Big Breakfast for the convention. He didn't reply or do anything at all… you can only try can't you?! Yeah, I'd love to do it.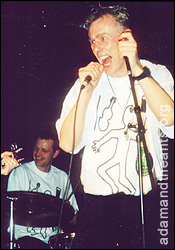 Is your new band [The Magnificent Seven] going to play more?
The first thing we did was the singer's birthday, then the guitarist's birthday. Then this gig came up, and before they'd never done a paid gig. That's why they were so enthusiastic. The singer's done stuff before, he's friends with Joe Strummer, but the rest of the band are regular-joe players. When this came up I thought, 'Who'd appreciate this gig?' The Magnificent Seven!
Do they see you as an ex-Ant?
Well I am. The funny thing is when I went to the States I never heard anything about the Ants. It wasn't until I came back ten years ago and talking to people I found out how popular the band really were / is.
People do remember with real affection too. It's great!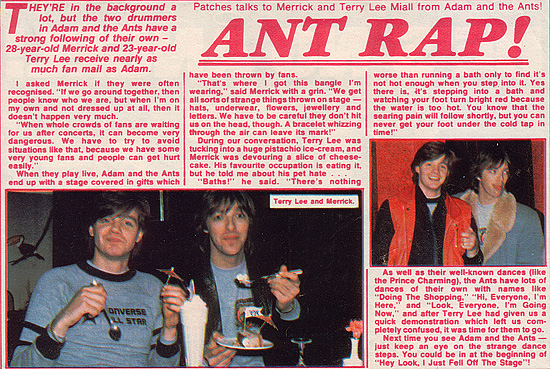 Who's online
There are currently 0 users and 77 guests online.
Who's new
bugpowder
PixieM
buddyholly
sfc1870
bretty
This Month's Poll
Who's the quintessential 'Ant Video Girl'?
Amanda Donahoe (Antmusic, Stand & Deliver)
22%
Diana Dors (Prince Charming)
39%
Lulu (Ant Rap)
0%
Caroline Munro (Goody Two Shoes)
19%
Karen Landau (Puss 'n' Boots)
11%
Mary Stavin (Strip)
4%
Sara Stockbridge (Room at the Top)
6%
Total votes: 54