The Ant World is Watching - Let's RSS Feed It!
Submitted by admin on Sat, 19/12/2009 - 23:13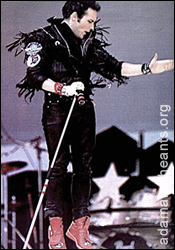 Welcome to the all-new Ant Lib Online - the official website of the Ant Liberation Front, the world's largest, longest-running organisation solely dedicated to fans of Adam Ant / Adam & the Ants!
After six months of planning and development, we are steadily rolling out the 'Beta' version of Ant Lib Online to Lifetime Subscribers of the Ant Liberation Front. While the website will be available to view by the general public and non-subscribers, this roll-out method will enable us to 'soft launch' the site by restricting interactivity while testing user experience on a smaller (i.e. "safer!") scale.
The Ant Lib Online website you see now is very much a work in progress, so the input and feedback from our most 'active' memberbase (i.e. paid Lifetime Subscribers) is required now more than ever as we build an online community outpost for fans of Adam Ant / Adam & the Ants that reflects the ongoing social revolution of the modern web.
Ant Lib Online Development Plan:
Thursday 28 January 2010 - "Beta" release for Lifetime Subscribers only
Sunday 28 February 2010 - User registration open to general public / standard Ant Lib members
The schedule above is dependent on hardware/hosting capabilities and we may experience downtime while any upgrades are made. There will be prior warning in advance of any scheduled downtime for maintenance. As development is ongoing, we will be adding additional features to Ant Lib Online over the next few months and are encouraging feature requests and bug reports to be placed during this development period within our forum.
Related Links...
Report bugs / issues
Request new features
Sign our guestbook
Who's online
There are currently 0 users and 15 guests online.
Who's new
bugpowder
PixieM
buddyholly
sfc1870
bretty
This Month's Poll
Who's the quintessential 'Ant Video Girl'?
Amanda Donahoe (Antmusic, Stand & Deliver)
22%
Diana Dors (Prince Charming)
39%
Lulu (Ant Rap)
0%
Caroline Munro (Goody Two Shoes)
19%
Karen Landau (Puss 'n' Boots)
11%
Mary Stavin (Strip)
4%
Sara Stockbridge (Room at the Top)
6%
Total votes: 54